The LT4 HOT cam is spec'd with 1.6 ratio rockers as follows:
Lift (In/Exh) Duration (In/Exh)
.525 / .525 218 / 228

Versus the standard ZZ4 cam: (w/1.5 ratio)
.474 / .510 208 / 221



w/ Carburetor (*)
Production ZZ4
w/ HOT Cam and 1.6 RR
RPM
HP
Torque
HP
Torque
2000
125
328
128
336
2500
174
365
174
365
3000
229
400
234
410
3500
271
406
278
417
4000
309
405
318
417
4500
337
393
354
413
5000
354
372
380
399
5500
355
339
394
376
6000
338
296
391
324
* From CHP 5/2000
---
For a graph of the above data, click here .
---
From the GMPP catalog:

24502586 Hydraulic Roller (LT4 Hot Cam)

This hydraulic roller cam is for service only for all V8 engines with
roller camshafts. The duration at lash point in degrees
(intake/exhaust) is 279/287; duration at .050" tappet lift
(intake/exhaust) is 218/228; and maximum lift with 1.6 rocker ratio
(intake/exhaust) is 525/525. Valve lash is zero/zero and lobe
centerline is 112 degrees.

Technical Notes: The LT4 camshaft P/N 24502586 was designed to be used
in a number of different engines. Therefore, the following change may
need to be made to allow for correct assembly of the engine: For LT1
and L98 engines 1995 and before, the dowel pin in the end of the
camshaft must be pushed in so extension from end of cam is .30+/-.01",
the same as the production part. For 1996 LT1 and LT4 engines, the
dowel pin is in the correct position, extending .620" from the end of
the camshaft. This camshaft has a fuel pump lobe.

---
Click on any image below for an enlargement (~500K) image.
---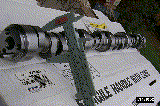 Angled View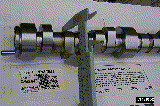 Close View
Drive pin on front of cam is set for LT1/LT4 drive gear and must be pressed in to a length of .300" for use in an L98.
---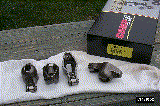 Rockers and Box
---
Installation: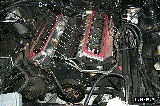 Intake and Valve Covers off engine

Intake and Valve Covers off engine


Front Cover off engine
Most difficult part (IMHO), is installing the front cover. Get a two-piece if you have the means..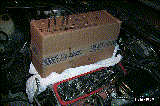 Pushrod removal/storage
Carefully store the rods in the correct order/orientation so that any ware patterns will transfer to the new/old parts.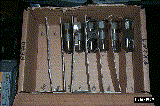 Lifter storage
Carefully store the lifters in the correct order/orientation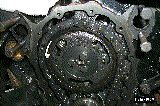 Cam Gear
Taking good notes/pictures helps when putting things back together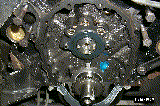 Cam retaining plate
A sure sign of a Hydraulic Cam...


Oil Pan front gasket section
Have to loosen all oil pan bolts and drop the front to get front-cover back in.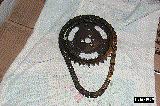 Cam gear and timing chain removed
---
When installing 1.6 ratio rockers, be aware of the increased travel and play that the rockers and push-rods will encounter. A "common" problem in that the centerbolts of the intake will make contact with the exhaust valve push rods on Cyls 3, 5, 4, and 6. My install experienced this also and can be seen HERE! .
---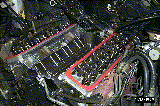 CompCam 1.6 ratio roller rockers, installed and lashed
CompCam specifies a zero-lash plus 1/2 turn. Others recommend plus 1/2 -> 1 full turn. YMMV Try starting at 0+1/2 and increment 1/4 turns while checking power/performance between each increment.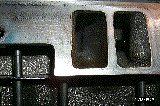 Looking inside ZZ4 head intake port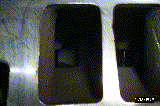 Looking inside ZZ4 head intake port
wish I had time for that pocket-porting.... 8-)