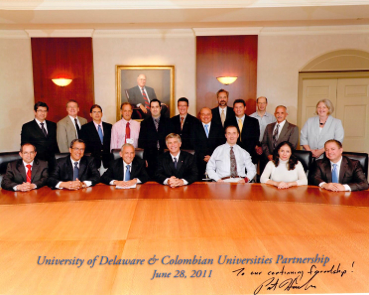 The summer research program is intended to attract talented students as potential Ph.D. candidates to do research in Delaware from mid June to mid August each year. Through this program, the participants will gain unique access to our ongoing research programs & capabilities and get to know our faculty members, providing a strong advantage when applying for admission in one of our graduate programs.
This program is primarily intended for outstanding undergraduate students in their last year of studies, Faculty members with Master degrees, and senior-level Master degree students near graduation and interested in pursuing Ph.D. studies abroad.
Areas of Study
The Summer research program covers several areas of study within the college of engineering. For further information, please visit the website of each department.
Outline of the Program
The visiting scholars (or their home institution) cover their transportation and Visa costs.

Through the program, the University of Delaware & hosting Faculty Members provide approximately $1500/month stipend for the Visiting Scholars to cover their costs of living in Delaware. We are currently in negotiations to offer convenient housing options through the University's housing services.
Procedure to Apply
The applicants should prepare a short 2-page resume (with up to 2 research publications attached if applicable).

The applicant should prepare a 1-page cover letter describing his/her research interests (please be as specific as possible) and identifying up to 3 Faculty members at the University of Delaware with similar research interests.

The applicant should send all material in a single pdf file to Karelia Pena kareliap@udel.edu by email (.pdf files only please) by February 15th, 2019.
Based on the applications we receive, we plan to select around 15 participants for the summer program.
We will then initiate the applicants-faculty matching based on mutual research interests, with the goal to have all candidates selected by the end of February to make sure we have all the visa, health insurance and housing issues addressed in time. We will then work with the selected applicants on an individual basis to address the pending issues in time to be ready for the summer.
We look forward to hear from you in great numbers this year!
Participating Universities
| | | |
| --- | --- | --- |
| • Universidad Nacional | • Universidad Industrial de Santander | • Universidad Católica del Uruguay |
| • Universidad de los Andes | • Universidad Distrital | • Pontificia Universidad Javeriana |
| • Universidad de la Salle | • Universidad Militar Nueva Granada | • Universidad de Antioquia |
| • Universidad Tecnológica de Pereira | • Universidad de los Andes-Mérida, Venezuela | • Universidad del Valle |
| • Universidad Santo Tomás | • Universidad Católica de Bolivia | • Universidad de la Sabana |
Previous Experiences