Philip Saponaro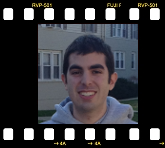 PhD Student
Email: saponaro 'at' udel 'dot' edu

I am a PhD student in the VIMS lab at the University of Delaware. I successfully completed the preliminary examination and proposal for the PhD program.
My PhD advisor is Dr.Chandra Kambhamettu. My research interests include topics in stereo systems, augmented reality, and multi-modal systems using thermal infrared.
I have interned at the U.S. Army Research Lab (ARL) in Adelphi, MD, where I worked on a project for a real time augmented reality system with the SIRE radar system and GPS/IMU, which resulted in an SPIE publication. I am currently working at ARL on improving the system by adding much more information with stereo cameras, and two thermal long-wave-infrared cameras. These will allow us to get accurate, metric depth information, while spotting concealed targets with anomalous heat and depth signatures.
Publications
P. Saponaro, S. Sorensen, A. Kolagunda, S. Rhein, C. Kambhamettu. Material Classification with Thermal Imagery. Computer Vision and Pattern Recognition (CVPR), 2015 IEEE Conference on , June 2015
P. Saponaro, C. Kambhamettu. Concealed Target Detection with Fusion of Visible and Infrared. Springer 10th International Symposium on Visual Computing, ISVC, 2014.
P. Saponaro, S. Sorensen, S. Rhein, Andrew R. Mahoney, and Chandra Kambhamettu. Reconstruction of Textureless Regions Using Structure From Motion and Image-Based Interpolation. IEEE International Conference on Image Processing, ICIP, 2014.
P. Saponaro, C. Kambhamettu. Towards Auto-calibration of Smart Phones Using Orientation Sensors. In Third IEEE International Workshop on Mobile Vision, CVPRW, 2013.
P. Saponaro, C. Kambhamettu, K. Ranney, A. Sullivan: Concealed Target Detection Using Augmented Reality with SIRE Radar. SPIE Defense, Security, and Sensing: Radar Sensor Technology XVII, Baltimore, Maryland, 29 April - 3 May 2013.